Heartwood Music specializes in music to nourish your soul. Our mp3s, musicCDs, guitar and lute tab, and the Guitar Dharma booklet aim to help you discover and explore the connectedness of music, spirit, and the natural world. Enjoy! -- Clarelynn Rose
New for Summer 2015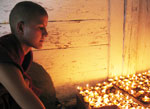 Meditation music? That's what some Buddhist nuns in the Himalayas think about The Redwood Sidthe. Still thrilled about the plays at Panera cafes, Clarelynn heard from one of the nuns, who says the 'music makes me feel inside very quiet, just like when I do puja. Isn't that wonderful!' Wow!
The new compilation CD is on its way! Pre-orders should be available from iTunes 11 July, with the official release on 8 August.
Please visit and 'like' the Facebook page to keep updated on the latest!
For listeners on Jango.com Radio, thank you very much for the 'thumbs up' votes! Clarelynn was ranked in the Top 10 of about 10,000 artists, based on the 'thumbs up' given by listeners.
All photos used with permission.